Miami Coach Jim Larranaga
There are a variety of different things that recruits look for when selecting their college to attend. They look at the history of the school, the recent success as a program, success in developing NBA talent. The two most impactful factors seem to be play style and the head coach.
The head coach plays a pivotal role in determining whether or not a player commits and sometimes recruits will base the commitment based on playing for a coach. Play style all depends on the individual recruit's preference. Some players love playing on a team that plays up-tempo; others will prefer to be on a team that crashes the boards hard or is stingy on defense.  Coaches like Boeheim, Rick Pitino, Billy Donovan, Bill Self and Coach K, have an aura about them that lures recruits to commit. However, all of those coaches can really use their big name rather than a specific play style to lure players.  Below is a list of coaches who aren't the big names of the Hall of Fame coaches but tend to have a play style that may suit a recruit's whims.
Just win baby win (They just win games)
Randy Bennett - the Saint Mary's Gaels: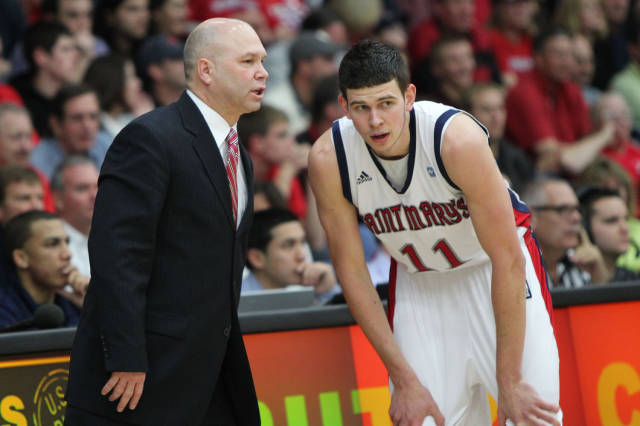 In his 11 years as HC, Coach Bennett has transformed Saint Mary's from being an unknown to one of the top mid major power in the nation.  Coach Bennett was named the WCC Coach of the year in 2008 and lead Saint Mary's to be WCC Tournament Champions in 2010 and 2012 as well as regular season Champions in 2011 and 2012.  Saint Mary's has been in the tournament 4 out of the last 6 years and has made the 2nd round two years in a row.   Coach Bennett has a career record of 235 wins and 118 losses with a conference record of 110 and 59.
Jim Larranaga- The University of Miami: Coach Larranaga was the coach of the George Mason Patriots from 1997- 2011, during that time he lead them to 5 NCAA appearance most notably a Final Four run back in 2006 that shocked the nation where along the way he beat big names coaches like Tom Izzo, Jim Calhoun and Roy Williams (Michigan State, UConn and UNC respectively) After a 27-7 year with George Mason, he took a job with the University of Miami; a school where football is king. Larranaga did not take long to make them a presence on court as in 2013 only his 2nd year at The U, he lead them to the Sweet 16 appearance, ACC Regular Season and Tournament Champions and a dominating win over #1 Duke in mid-January. Coach Larranaga success makes him very intriguing coach for recruits.
Let it Fly Coaches (Green light for 3 point shots)
Fred Hoiberg– Iowa State:
Hoiberg has only been a head coach for 3 seasons but a quick look at his Iowa State cyclones lets you know one thing about his coaching style, the three pointer is huge. In Hoiberg's three seasons at the helm, they have shot 747, 786 and 924 three pointers and have shot 37% in every single one of those seasons.   Iowa State also was top 10 the last two years in amount of three pointers made. Hoiberg's let it fly tendencies can be really appealing to sharp shooting players who want the reins to be a bit looser on them.  What impresses the most is that Hoiberg is also winning games, winning 23 games each of the last two seasons. Hoiberg is one of the best budding young coaches in the NCAA and looks to have a bright future, so much so that he was thought to be a candidate for the Celtics HC vacancy
Rick Byrd – Belmont-:  Rick Byrd has let Belmont be a model of consistency since he took the position in 2001. They have been to the NCAA Tournament 6 out of the last 8 years. The only downside is that they are yet to leave the first round.  Rick Byrd also believes in a high three point usage. His teams have been very good from deep shooting 36% from deep over his coaching career with  last year's Belmont team shooting 38%. In Belmont's first year in the OVC, Byrd led them to a Regular Season and Tournament Championship.  Rick Byrd has become the face of a program that he built from the bottom up, using players who want to be part of the family and who will be four year players for the Bruins.
Speed it up (Historically Up-tempo Offense)
Dave Rose – BYU: Since Rose took over in 2005; BYU has made 7 NCAA Tournaments.  Coach Rose's BYU teams have been consistently one of the top teams in possessions. According to Kenpom.com BYU ranked 7th in adjusted tempo offense; Kenpom describes adjusted tempo O as "An estimate of the tempo (possessions per 40 minutes) a team would have against the team that wants to play at an average D-I tempo."  Players like Jimmer Fredette, Tyler Haws and Jackson Emery have come through BYU and have flourished in their up-tempo style. BYU's strict moral code may make the program a little less enticing for recruits but when looking at tempo and solid coaching BYU provides that. 
Andy Enfield – Formerly of FGCU, now at USC: There really isn't much to say about this except if
you didn't see FGCU in this year's tournament, you probably were not paying attention. Up-tempo doesn't even begin to describe that team. FGCU ranked 10th in possessions per game and was able to dazzle on the floor and captivate the nation. Recruits like Malik Price-Martin will flock to USC to get a chance to play in an offense that creates highlight videos like this one. 
Recruits look out for these coaches and coaches similar to them, because a coach's philosophy that coincides to your playing style could result in hoisting a Naismith Award or a Final Four trophy.