Google+, Instagram, Facebook, Foursquare, Twitter, Pinterest, and YouTube--what do they all have in common? They represent enjoyable ways to connect with others online and serve as a convenient means of self-expression. Yet, recruits must be cognizant of the content with which they chose to engage on social media. This is not to say recruits should not enjoy the benefits of social media or express themselves with anything but honesty. As the French say "au contraire"--when properly done, recruits can actually use social media to their advantage in the recruiting process. In no way should this article be seen by student athletes as a complete resource for approaching social media. However, it will hopefully supply recruits with several ground rules to build upon as they move forward.
Recruits have the right to express themselves and their ideas. However, using crass language and making obscene gestures in photographs and/or re-tweeting, favoriting, liking, and sharing such content serves as a reflection of the individual in question. By engaging in such behavior, the individual's consent becomes implied due to personal endorsement. These actions can seriously damage a recruit's reputation from the perspective of programs interested in their academic and athletic ability.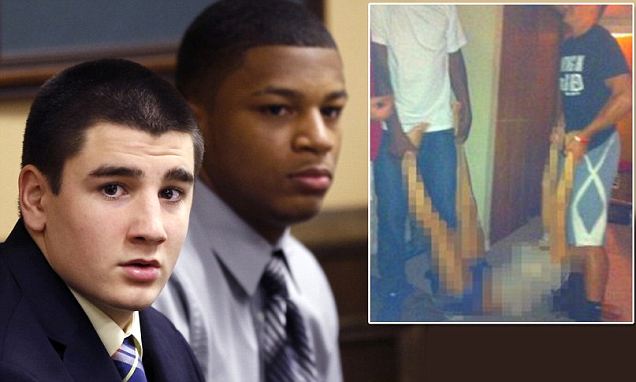 For example, the Steubenville High School rape case acts as a good example of the negative repercussions that can be realized due to misconduct on social media. Players from the school's renowned football team, whose actions were captured on video and thoughtlessly posted on YouTube, proudly described the events on the night in question and suggested that the same crime may have been committed before under similar circumstances. In addition, a picture was taken of the rape victim being held in the air by the two players, Trent Mays and Ma'Lik Richmond, who were found guilty of rape (pictured above). This picture was posted on Instagram and Facebook shortly after the party. Both will serve sentences in a juvenile facility until they are 21 and have registered as sex offenders. Not only did they commit a horrible crime, but one of their worst moments was placed on public display. Their athletic careers--but more importantly their lives--have irrevocably taken a turn for the worse. This example shows the power of social media.
Recently, Riley Cooper's use of a racial slur was filmed, posted on a website, went viral, and has completely changed the public's opinion of his image. Cappie Pondexter, WNBA player for the New York Liberty, tweeted the following in the aftermath of a tsunami that ravaged Japan in March 2011: "What if God was tired of the way [the Japanese] treated their own people in [their] own country! Idk guys he makes no mistakes." Such a disparaging comment made in the aftermath of a horrible tragedy damaged her image as well. Finally, in an effort to learn more about the influence of social media for student-athletes, a study was conducted by researchers from Baylor University and Clemson University concerning student-athletes' use of Twitter. One of its primary findings concerned the disparity between conduct that is acceptable in the minds of coaches as opposed to those of student-athletes. In the end, until a universal code of conduct on social media is established in college sports, recruits should err on the side of caution.  
While reading this article, recruits may agree with the condemnation of Cooper, Mays, Pondexter, and Richmond but take offense to the challenge to become more self-aware on social media because it appears confining. It is indisputable that recruits deserve the right to express themselves on social media, yet there is an important observation lost in this line of reasoning: coaches cannot personally allocate the proper amount of time to every recruit in order to acquire every piece of information and every deed of every recruits--good or bad. This does not signal a lack of interest but instead a physical impossibility. With so many matters to address, coaches have a large amount of responsibility, which includes the protection of their program's integrity. Coaches search for negativity to protect themselves from potential liabilities. Ultimately, recruits may be misunderstood and unfairly scrutinized, but they cannot complain when they themselves possess the power to control the content available to coaches. This further signifies the importance of ensuring that all content on social media remains above reproach.
While some recruits understand the need to be careful on social media, many of these same individuals allow worry to cripple them. Recruits need not fear because coaches have profiles on social media networks such as Facebook and Twitter as well. When coaches scrutinize the accounts of potential recruits, the same can be done in return. Recruits would be wise to use the social media accounts of coaches and their programs to gain more information. Players must convince programs that they possess the talent necessary to contribute to a program, but programs must convince recruits as well. These networks help meet the needs of both student-athletes and college programs. 
Furthermore, recruits would be wise to use their social media accounts to market themselves. For example, recruits can create an independent website or link to content containing highlights and testimonies from coaches and teammates. By using the "About" section on a Facebook profile, a Twitter Bio, or a combination of multiple social media accounts, recruits can make such a website and/or link readily accessible to interested coaches. In this way, recruits bolster their athletic profile, control more of the available content concerning themselves, and demonstrate a sense of resourcefulness to interested programs.
In an attempt to help guide recruits, the National Collegiate Scouting Association (NCSA) posted a video that addresses the proper use of social media. While the video is approximately 12 minutes long, spending 12 minutes learning the proper use of social media will assist recruits in maintaining a positive public image.
Remaining mindful of the content posted on social media goes a long way in earning the admiration and respect of college coaches. Remember, social media is a tool that can either help or harm one's image and that--in the end--coaches have no choice but to act upon what they know.