Earlier in the week, UCLA's new head coach, Steve Alford, signed guard/forward Trevon Bluiett (pictured below) from the Class of 2014. With strong ties in the state of Indiana, Coach Alford connected with the standout from Park Tudor School in Indianapolis. After receiving offers from the likes of Arizona, Butler, Indiana, Michigan, Purdue, and Xavier, such interest in Bluiett serves as a testament to his skill on the basketball court.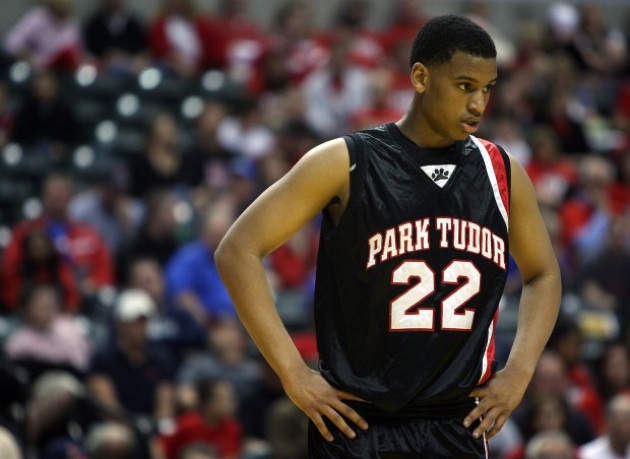 When asked why he committed to UCLA, Bluiett remarked, ""Everything felt right about UCLA. Coach Alford has a plan for me and made me feel very comfortable. The support they give their program -- from academics to strength and conditioning -- it's all set up for me to be successful." 
Assistant coach, Ed Schilling, also played a strong role in Bluiett's signing. Schilling, formerly the head basketball coach at Park Tudor School, served as a mentor to Bluiett during his first three years of high school. At 6'6 Bluiett poses both the ability to make shots from beyond the arc while remaining strong enough to finish at the basket. Paired with two 6'10 seniors, David and Travis Wear, and other young, promising players, Bluiett could make an immediate impact.
Also, UCLA reportedly played host to Quentin Snider (pictured above), a ESPN Top 30 recruit, earlier this week. Snider, who recently de-committed from Louisville, would only bring more talent to the Bruins roster. The talented point guard of Ballard High School has received offers from Connecticut, Cincinnati, Illinois, Louisville, Loyola Marymount, Marquette, Memphis, Michigan State, Minnesota, Texas A&M, USC, Vanderbilt, and West Virginia in addition to that of UCLA.
After six seasons and a complicated buyout agreement with New Mexico, Coach Alford hopes to reap the rewards of his change of venue. Signing Snider in addition to Bluiett would further position the Bruins for success in the future.